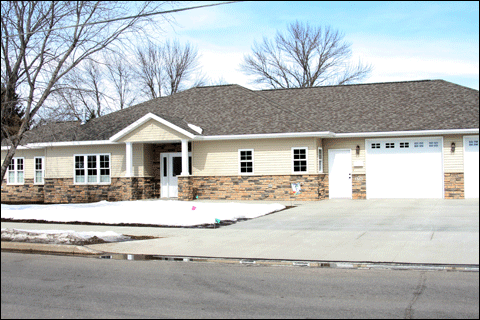 After living on a farm near Lake Henry for 44 years, Victor and Julie Fischer started construction on their new retirement home in Paynesville in August 2011. The couple moved into their new, single-level patio home shortly before Thanksgiving last year. The two-bedroom, two-bath home, located on Minnesota Street, is handicap accessible and features in-floor heat and an attached three-stall garage.
By Ellarry Prentice
The commute to mass is much shorter for Victor and Julie Fischer these days. The couple can leave the car in the garage and walk right across the street to church from their new retirement home in Paynesville.
From the close proximity to St. Louis Catholic Church, to the availability to enjoy more visits from family and friends, the Fischers love their convenience of living in town.
Victor and Julie built their new single-level patio home, located on the corner of Minnesota and Richmond streets Ð behind the Catholic church Ð last year. Construction began on their new home in August 2011, and the couple moved in just before Thanksgiving.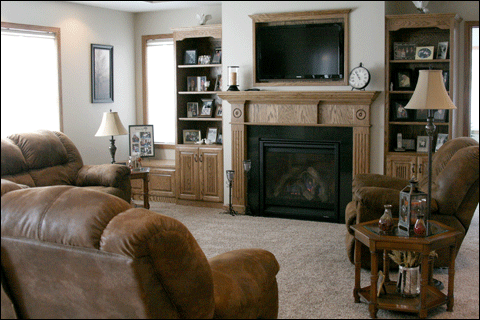 The gas fireplace and built-in oak bookcase are two features Victor and Julie
enjoy in the living room of their new retirement home in Paynesville.
"It was time we got off the farm," said Victor of their move into town. For 44 years, the couple lived on a 120-acre farm near Lake Henry, about five miles from town.
Victor farmed their former residence for nine years while working for UPS. He continued to work for UPS until his retirement in 1997, while Julie worked as an aide at Paynesville Area Elementary School for 27 years, until her retirement in 1999.
Victor and Julie, both Paynesville High School graduates, have shared 50 years of marriage. The couple has three adult children, eight grandchildren, and a great-grandchild on the way.
Their previous home on the farm, which the couple built in 1976, was a multi-level house designed "for young people," said Julie. Maintaining the four-bedroom, three-bath home and farm site was a lot of work, they said, which prompted their move to town.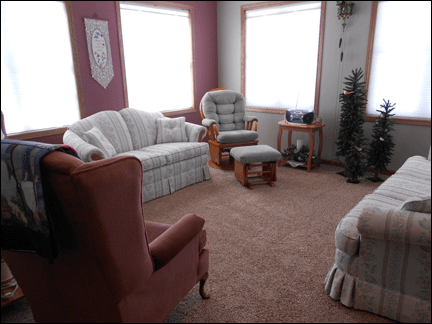 The sun room, its windows facing the south, maintains warmth and
is a place where Julie enjoys reading and quiet time.
A few years ago, the Fischers purchased a city lot Ð with an old house they had demolished Ð for the site of their new retirement home. They began the process of building the house a couple years after purchasing the lot, when they sold the farm.
During the construction, Victor and Julie lived in a camper on-site so they could be readily available when needed.
Their new home is completely wheelchair accessible, and, being a single-level home, has no stairs. Its handicap-accessible features include an open floor plan with wide doorways, handle bars in the bathrooms, a lowered bathtub, and large, walk-in shower with a bench.
"We built this house for retirement," said Julie. "(Its handicap-accessibility) is ready when we need it," she added.
The two-bedroom, two-bath home encompasses 1,852 sq. ft. and features an attached 1,200- sq.-ft. garage. The three-stall garage has two doors that are accessible from the front of the house, facing Minnesota Street, and one door on the east side of the house, accessible from Richmond Street.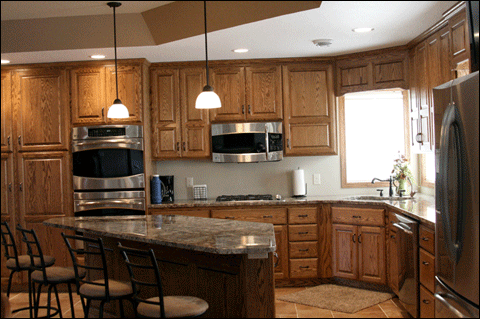 The Fischer's new kitchen features stainless steel appliances,
granite countertops, oak cabinetry, and an island.
The single-level layout includes a kitchen and dining room; a living room with a gas fireplace and built-in oak bookcase; a sun room; an adjoining guest bath and laundry room; and a master bedroom with a walk-in closet and master bathroom. Their guest bathroom is adjoined to the laundry room and walk-in closet, which is also adjoined to the master bedroom and bathroom.
Victor and Julie chose ceramic tile flooring for their bathrooms, kitchen, dining room, and laundry room and carpeting for their bedrooms, living room, and sun room. Wanting to avoid dark, bold colors, their flooring and wall coverings are neutral, earth tones.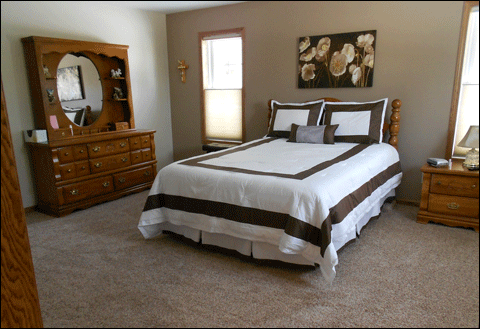 The Fischers chose neutral, earth tones for their wall and floor coverings,
as shown in their master bedroom.
The kitchen features oak cabinetry; stainless steel appliances, including a double oven; granite countertops; and an island, where Julie and Victor share many of their meals together. They still plan to add a backsplash to the kitchen.
A shoe closet, appliance closet, and coat closet are located near the kitchen and near the entrance from the garage. In lieu of a walk-in pantry in the kitchen, Julie chose slide-out cabinetry for food storage.
The Fischer's new patio home is handicap accessible, including their master bathroom, which has a low tub with handle bars for easy accessibility.
There is in-floor heat throughout the home and the garage. As an additional heat source, on sunny days, south -facing windows warm up the house quickly, said Julie. Several rooms also have their own thermostat, so they can keep their bathrooms and living areas warm and bedrooms cool, Victor explained. Closed cell foam insulation (all of the inside walls are insulated) and new windows keep the house Ð located on a busier street Ð quiet, by reducing the traffic and pedestrian noise. They have also been satisfied with their heating costs as a result, Victor said.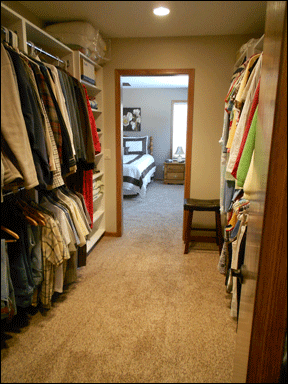 A huge walk-in closet connects the Master Bedroom and the laundry room.
The garage houses their cars and snow tractor and a utility room. It features coated, speckled flooring, cabinetry, and a sink. Per code requirements, since the home does not have a basement, the garage also has a storm shelter comprised of 10-inch block.
Much like the neutral tones of the inside of the home, the home's exterior features tan siding and a rock front.
The Fischers wouldn't change a thing about their new home. They're satisfied with the finished product and are enjoying the convenience of living in town and living in a smaller, single-level home that's easier to clean, navigate, and maintain, Julie explained.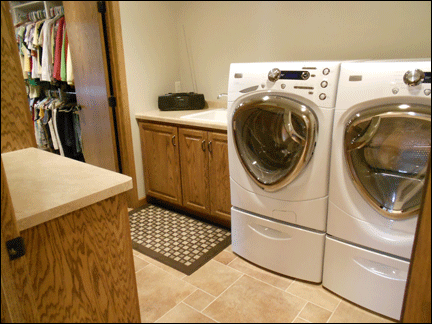 The laundry room can be accessed from the guest bathroom, as well as
from the master bedroom and walk-in closet. All four areas are adjoined.
"We love it in town," said Julie. "We love the location," she added. Victor and Julie like their short walk to church, being close to stores for errands, and having more frequent visits and company in their new location. Though they were only about five miles from town in their previous location, it still makes a big difference for them to be only blocks away from stores, restaurants, and other places of interest, they explained.
Julie appreciated the help and input from their children and grandchildren, who helped move them move in and decorate.
The Fischers plan to install an irrigation system and to landscape their property this spring. Aside from upcoming lawn work, they're happy that all of the inside work has been completed.
The couple also has a lake cabin near Glenwood, where they enjoy relaxing and spending time with family. They also enjoy attending the school activities of their grandchildren.
Return to Home Improvement
---
---
---