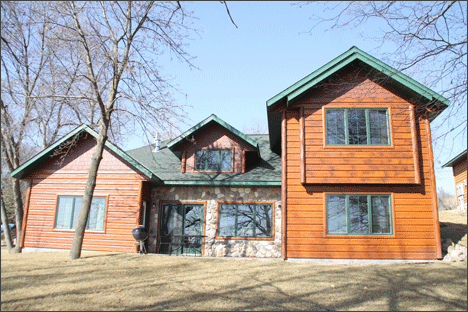 Bugbee Hive Resort built this five-bedroom, five-bathroom cabin last spring, completing the construction in two months and renting it starting last summer. Combining two lots, including purchasing back a cabin that his dad sold
in the 1960s, Paul Bugbee wanted to build a premier rental unit
that can house 12 people with lakeside views.
By Michael Jacobson
The new five-bedroom, five-bathroom cabin at Bugbee Hive Resort - now its premiere rental unit - was built under a rapid schedule last year. "From start to finish, it was two months," said Paul Bugbee of the construction. "We got a late start, due to the wet spring, but I had it rented on July 2. By God, they got it done. It was amazing."
"It just all clicked perfect," he added of the nimble coordination of the local builders.
The new cottage, named "Crazy Bee," sits along Lake Koronis. Bugbee combined two 40-foot lakeshore lots to build the new cabin.
Bugbee designed and built the cottage with the idea of it being a premier unit. "And it is," he said. "It probably always will be my top unit."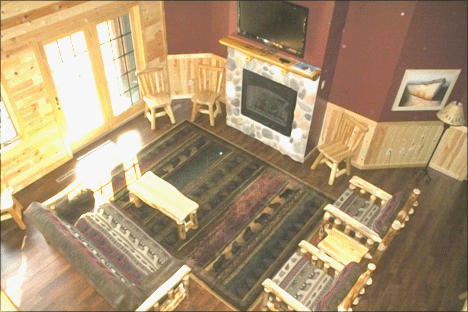 Floorspace in a rental unit is primarily focused on places to sleep
(bedrooms) and common areas, such as the living room, which features
Bugbee Hive trademarks such as pine wainscoting, a river rock fireplace,
and pine furniture.
One of the lots had a seasonal RV on it, and the other had a two-bedroom cottage, originally built by his father Jack back in the 1940s. "Sea Bee" was one of six cottages sold by Jack during hard economic times in the 1960s. "I'd always be at the closings with him, and I'd say to him: How can you sell that cottage? Of course, I didn't understand the economics," said Paul. "And he'd say: it's like cutting off my arm."
Bugbee has now purchased back two of these six cottages. "Sea Bee" was sold for $5,000 and bought back for $150,000. Since the name "Sea Bee" was already being used at the resort, Bugbee resurrected another name "Crazy Bee," fitting, he said, because "I was crazy to pay that much money to buy it back."
The resort had kept the other lot, with the thought of making it into a boat landing, if needed. Bugbee decided to replace the dated, 800-sq.-ft. two-bedroom cottage and the rental RV with a premier unit. "I felt it was time to bring it in line with the rest of the cottages," he explained.
A year ago, at the end of March, Paul and his father stripped the cottage, salvaging pine boards, appliances, light fixtures, etc. His father helped on Saturday, March 27, and died the next morning.
Construction got a late start because of the wet spring but finished in time for last summer's prime rental season.
Building a rental cabin is different from building a house. For starters, Bugbee gets to make all the decisions, so there's no husband-and-wife negotiation. Secondly, as a rental unit, the goal is to maximize bedroom space and common areas, while things like storage space are not important. "It's a business of renting beds," said Paul of the five-bedroom, five-bathroom cottage that could sleep 18 but is licensed for 12.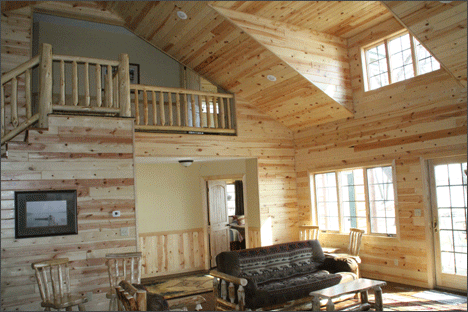 The cabin is two stories on the east side, with two bedrooms upstairs
and two downstairs, all with two queen beds.
Bugbee designed a single story to the west, next to his neighbor, and two stories to the east, up the hill and next to the rest of the resort. "I just draw them on a napkin," he said. "(Then) I sketch them out on graph paper." The cabin opens into the open living space - kitchen, dining room, and living room - common space large enough for big family groups. "They have to have a nice living room/kitchen," said Bugbee.
One of the few things he would do differently would be to open the space under the stairwell, adding room to the kitchen/dining room/living room. (He doesn't really need the storage space.) "I always think I've planned enough space in the common area, but it's never enough," he said.
A typical family group might consist of grandparents, kids, and grandkids sharing quality time on vacation. "I appreciate that more and more," Bugbee said.
Some hallmarks of the Bugbee Hive look include: pine wainscoting (which better protects against scuffs and gives it a cabin look); vaulted ceilings (with pine boards); river rock (on the outside and on the gas fireplace in the living room); hickory kitchen cabinets (which compliments the pine); and pine furniture.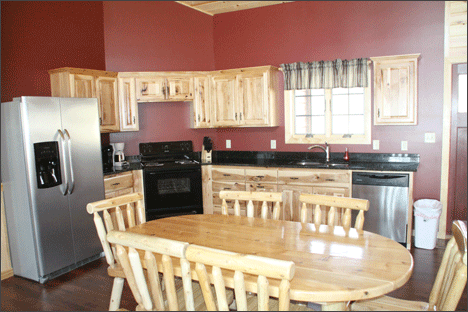 For the kitchen, Bugbee uses hickory cabinets that compliment the pine decor.
Unlike a residential home, storage space is not really needed in a rental unit,
with the focus being on bedrooms and community living space.
"I love to utilize the vault in the ceiling. I love to give them a different look and character," said Bugbee, who also had the ceilings in the bedrooms vaulted. "Your roof is gabled anyway, so take advantage of it. It adds character, and it makes the rooms seem bigger."
Adding nice touches is key to the rental market. "I love it. I think it makes a world of difference," Bugbee said. "The guests love it. They say this is nicer than my house. That's what I want. The whole point of taking a vacation is it should be a treat."
Pine, he said, "is durable. It's classic. It's always a cottage look and a cottage feel."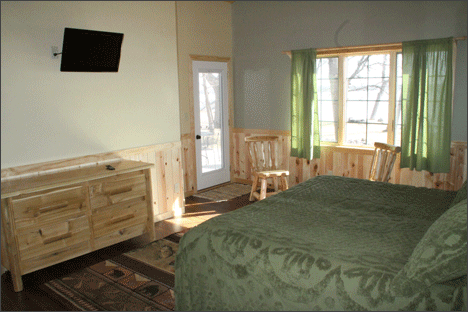 The master bedroom faces the lake and includes a gas fireplace (not shown),
TV, king bed, and door to the front porch.
The west wing includes the master bedroom, master bath, and laundry closet. The master bedroom includes a king bed, gas fireplace, TV, and view of lake. Normally, said Bugbee, the master bedroom occupants normally pay the bill, so making it nice is key.
The two-room master bath includes a large room with double sink and laundry closet that opens to both the bedroom and the toilet/shower room. The in-unit laundry is very convenient for guests, said Bugbee, who puts this amenity in his new units now. The master bathroom also includes a jacuzzi and tile shower. "That really gives it class," he said.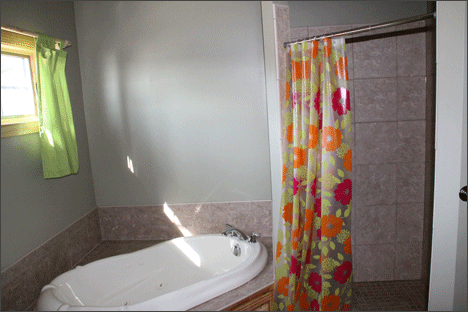 The master bath includes both a jacuzzi and a tile shower.
The other four bedrooms - each with two double beds - are located in the east wing of the house (two on the main level and two upstairs). Three of them have an adjoining bathroom, while one on the main floor is next to a bathroom that doubles as the community bath. "Today in the vacation industry, people want a bathroom for every bedroom. That's what they like," said Bugbee.
Though private bathrooms are important, storage is not. So Bugbee includes only minimal closets, without doors, and also has his bathroom vanities built without doors. There's no real need for closet or vanity doors, as guests just want a place to hang their clothes and put their toiletries for a week. "When you take a trip, you live out of a suitcase," Bugbee explained.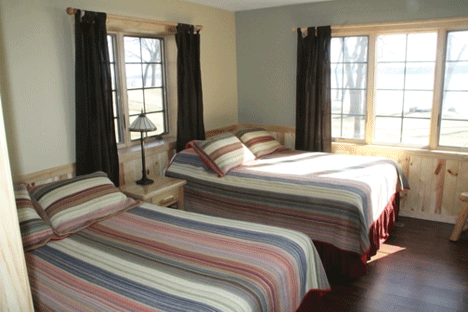 Besides the master bedroom, all four bedrooms in the cabin
include two queen beds.
Without doors, the closets and vanities are less expensive to build, more accessible, and easier to maintain. To maximize space, Bugbee also frequently uses pocket doors, so he can save room from the swing of the door.
The least amount of maintenance is important for Bugbee. The cottage, built on a cement slab, has vinyl flooring that looks like wood, "which I love," he said. "It has a nice wood look," yet is very water resistant and durable. Upstairs, the new cabin has carpeting.
A new feature in the cabin are built-in shades in the patio doors, which are great because they are easy to clean and "pretty hard to wreck," said Bugbee, who had tried shades and vertical blinds in the past.
While Bugbee usually uses electric heat, which is easy to install and to regulate (i.e. turn down when the unit is not being rented), he opted for central AC and central heat in this premier unit.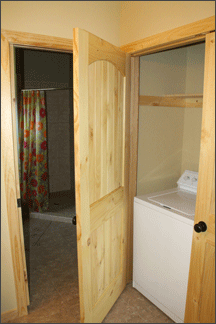 The two-room master bath includes a laundry closet that opens to both the
bedroom and the toilet/shower room. The in-unit laundry is very convenient
for guests.
To avoid the MPCA overseeing its septic system, Bugbee installed a separate septic system, too, and actually operates it as a vacation home, not officially part of the resort, though it is rented and operated with the resort.
Another thing Bugbee has learned over the years is to provide a separate entrance to the utility room, so he doesn't have to disturb his guests. Before, "you'd have to crawl underneath the cottage."
And one thing that he is doing differently, he said, is painting the cabins with bright colors, instead of leaving all the walls white. This cabin has a dark red in the great room to compliment the pine decor.
Return to Home Improvement
---
---
---