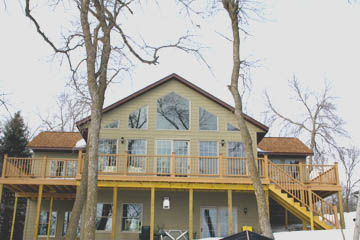 Dan Stone and Sue Elkins built their retirement home on the north shore of Lake Koronis in 2010. Dan purchased the property with his dad and brother in 1976 and has dreamt of building a year-round home for retirement, replacing the old cabin, since buying out his family members. To maximize the views, they chose a vaulted ceiling for their front windows.
Ah, the view. From the hill, you can see all of Second Island, most of First Island, and glimpses of Third Island.
"This is the best view on the lake, bar none," said Dan Stone, who purchased the north shore property in 1976. "We looked at several places (on Lake Koronis), but the view here is spectacular."
Originally from Benson, Stone, now retired, worked for a malt company in the Twin Cities. "My dad, my brother, and I bought (the property) in 1976," said Stone, who bought his dad out 25 years ago and his brother out 20 years ago. During all that time, it was just a lake cabin, but Stone always intended to retire to the lake.
With his partner of 20 years, Susan Elkins, he got serious about building a retirement home on the property after retiring on Dec. 31, 2009. "It's been years in the making. I thought about it everyday since I bought out my dad and my brother," said Stone of retiring here. "I like the lake, and I like the community."
They planned their new home that winter, started construction in the spring of 2010, and moved in in October 2010.
"This was our dream to retire up here. Our families are still down in the Twin Cities, and it's a decent commute," added Susan.
Dan and Susan found a design online and modified it slightly. Due to the hill, they wanted a walkout basement. They also wanted great views of the lake. The couple wanted "something that highlighted the lake obviously," said Dan. "And we wanted a lot of glass, a lot of light. And we wanted most everything on the main level, the master bedroom and the laundry room."
On the main floor, a vaulted ceiling allows for tall windows. "We wanted to have all these windows, so that's why we decided to have the vaulted ceilings," said Dan.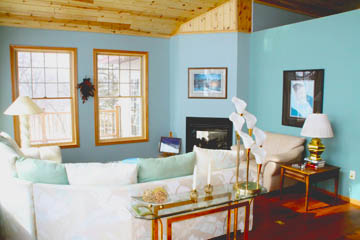 Dan Stone and Susan Elkins wanted lots of natural light in their living room (shown), dining room, and kitchen. The array of lake-facing windows provides a spectacular view of the lake as well as plenty of southern exposure.
"We wanted it open. We wanted it to flow," said Susan of the main floor, where the entryway feeds into the kitchen, dining room, and living room. The main floor also includes the master bedroom, four-season porch, and laundry room. The main floor includes cherry kitchen cabinets, hickory flooring, pine ceiling, and oak trim. "I don't know how much more kind of woods we could have had," said Dan. "But I think it's great having all the contrasts."
"It's OK to mix woods," added Susan.
The kitchen has an island facing the dining room and living room (and the lake); Brazilian granite countertops; stainless steel appliances; an appliance garage in the corner to keep appliances out of sight; and a lazy susan and slide-out drawers, which they like since it makes it so easy to take things out of the back of the drawer. Even their garbage/recycling is hidden in a slide-out shelf.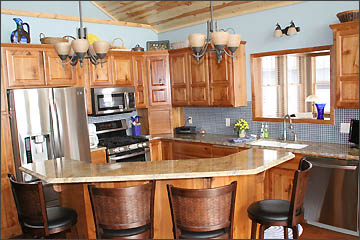 Their new kitchen features Brazilian granite countertops, cherry cabinets, pine ceiling, oak trim, hickory flooring, and stainless steel appliances. All their drawers have slide-out runners, which makes it convenient to access items in the back of the drawer.
At the suggestion of a contractor, they added a pantry off the main entry, next to the kitchen, in what would have been dead space.
Dan, who lives in the house nearly full time, while Susan still works, loves the four-season porch. "I like it out here," he said of his favorite room to watch golf on TV, etc. The four-season porch has doors to the back porch and to the wraparound porch on the front of the house, facing the lake. "We can't wait to sit on the deck and enjoy the view," said Susan of their first summer in the new house.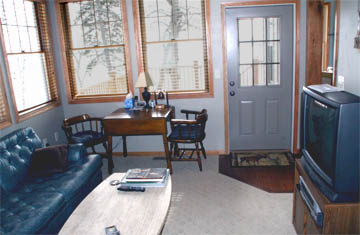 Dan Stone's favorite room in the new house is this four-season porch, where he likes to watch golf and other TV programs. The room has windows facing the lake and access to the wraparound front porch (shown), as well as a door to the back porch (not shown).
They also are eager to use their dining room to entertain. "We both like to cook and to entertain," said Susan.
One of the challenges, since Susan and Dan still own a townhouse in Roseville, is maintaining two homes. "It's hard, furniture-wise, having two places," said Susan, who plans to fully furnish the house when she retires in another year after she qualifies for Medicare. (She works as the community development manager in the mortgage division for Bremer Bank.)
"It's a work in progress," said Stone of the furnishings.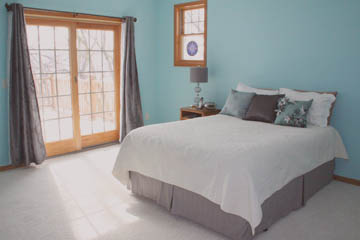 A sliding glass door connects the master bedroom to the wraparound deck on the front of the house. The house also has a see-thru gas fireplace between the bedroom and the living room.
The master bedroom suite features another access to the wraparound front porch, a see-thru fireplace (to the living room), a walk-in closet, and master bathroom with jacuzzi for Susan and shower for Dan as well as his and her sinks.
In all their closets, they had closet systems built to improve their useful storage space and keep their closets organized. "We knew we wanted it," said Susan of the closet organizers, which they had a local cabinetmaker build instead of purchasing. "We just couldn't imagine that we could afford to do it."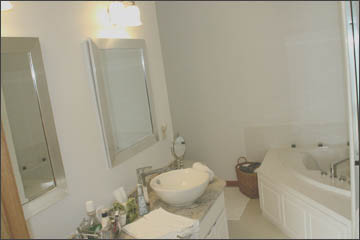 The master bathroom of Dan Stone's and Susan Elkins' retirement home includes his and her sinks with porcelain bowls, a jacuzzi for Susan, and a shower for everyday use.
In their townhouse, "storage was always a problem," Susan added, "whether it was off-season clothes or holiday decorations. Storage was always a sore spot with us."
One interesting feature on the main floor is a waterfall faucet in the half bathroom. "Kids love it," said Susan. All their bathrooms include energy-efficient toilets.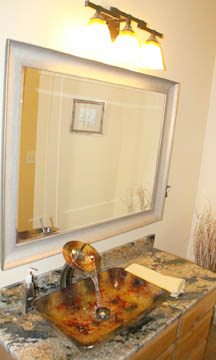 The half bath on the main floor features
this waterfall faucet which the grandchildren love.
The main floor also includes a two-car garage, a front entryway, and a front closet.
In the basement, the house includes a family room (to be finished, including the fireplace); two guest bedrooms; a full bathroom; a utility room; a cold storage room under the four-season porch; and Dan's office. The basement uses in-floor heat, which keeps the toes warm.
The couple has seven adult children and six grandchildren, so having enough space to host family gatherings was important to them.
In addition to the attached garage, they also have a three-stall garage, with room to park six cars, as well as a loft, on their property, which Dan describes as "the ultimate man cave."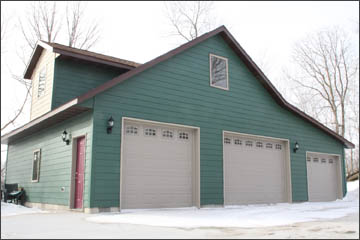 "The Ultimate Man Cave" is a three-stall detached garage, with room to park six cars, and a loft, which sits behind their new house.
The main floor also includes a two-car garage, a front entryway, and a front closet.
They also still need to seed and sod the yard, build retaining walls, and do other landscaping. And they would like to have an asphalt apron off the paved driveway to their new house.
Dan insisted on local contractors to build their new house, having to twist Susan's arm to get her to agree. As a city girl, she said she was nervous, but was impressed by the quality and craftsmanship of the local builders. "We're going to live here. We want to support the local community," explained Stone of his desire for local workers.
They were impressed by how closely contractors worked with the lumberyard and by their helpful ideas. "They coached us on a lot of things," said Dan, of their contractors. "Their input was very helpful."
Dan and Susan might change a few minor things in their new house. While Dan spent many days visiting Paynesville during the house construction, it was a challenge to be living in Roseville while building here, since decisions seemed to be required on a daily basis.
"I think it came out almost perfect,"said Dan of their new house above Lake Koronis.
Return to Home Improvement
---
---
---