By Ellarry Prentice
After a long summer of "camping" and construction, Bill and Lynn Wuertz couldn't be happier with the new patio home they built on the Paynesville farm they've called home for 20 years.

Built on their 160-acre crop and livestock farm near Lake Henry last summer, the couple's new two-story patio home sits on the same location as the old farmhouse that was moved off the property before construction began last May.

Bill and Lynn, who will be married 20 years this summer, had discussed building a new home on their property for several years. With their three daughters - Megan, a junior; Brooke, a ninth grader; and Abbie, a fifth grader - all still at home, they decided to go for it, wanting the new house to be home for all three of their girls, too.

After their old house was removed from the property, the Wuertzes remained on the farm during the four and a half months of construction, temporarily moving into a camper inside of their machine shed.

"We camped all summer last year," laughed Lynn, recalling the eventful summer months the family of five spent in the camper before they began moving into the new house Labor Day weekend. "It was an adventure," she said of "camping" during some of last year's cold, rainy weather.

While living in the camper, Lynn did laundry in one of the buildings on the farm, transporting clothes to and from on their four-wheeler. She and Bill agreed that having a washer and dryer and shower area in one of their buildings was nice to have close by during those months of sharing such small living quarters.

Living in the camper during construction was nice because Lynn and Bill were on site everyday to ask questions and help out when needed, they agreed.

The family not only felt some of Minnesota's cold weather while living in the camper. Their old farmhouse, at least 100 years old, had a stone foundation and no insulation, which made one room so cold that Lynn used to use it to chill pop.

The family had also outgrown their old house. It had only one small living space, only one main floor bedroom, and only one bathroom, which was not ideal with four girls in the house, noted Lynn.

Deciding it was time to start the home building process, Lynn spent many nights looking at floor plans but found nothing she and Bill really liked. So they started drawing their own plans and later worked with their building company to create a plan that best fit the family's needs.

The two-story Wuertz home - with its peaceful country setting, warm earth tones, and large main floor fireplace - has a come-on-in-and-make-yourself-comfortable feeling.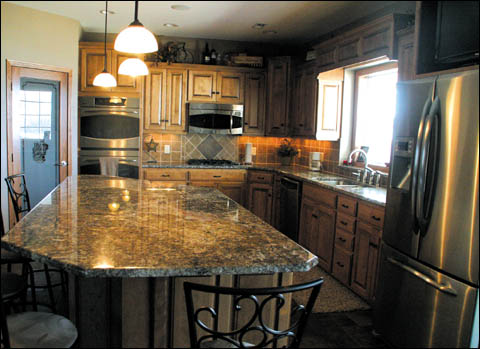 Their new kitchen features granite countertops, ceramic tile flooring, birch cabinetry, a tile backsplash, stainless steel appliances, and an island with seating.
The main floor - 2,200 square feet in size - features an open floor plan and in-floor heat. It includes a spacious kitchen with an adjacent dining area; the living room; Bill's office; master bedroom/master bath; Abbie's room; a half bath; the laundry room; and the mud room.
"Everything we need is on the main floor," said Lynn. High school sweethearts, Lynn is a 1983 PHS grad, and Bill is a 1984 PHS grad.
The new kitchen is located at the front of the home, which Lynn likes because she can look out the window above the kitchen sink and see the farm, see Bill working outside, see people pull up in the driveway, etc.
The kitchen features earth-toned ceramic tile flooring, granite countertops, under cabinet lighting, a tile backsplash, birch cabinetry, a large pantry, stainless steel appliances, and a large island with front cabinetry and backside seating.
The stainless steel kitchen appliances include a double-oven, which Lynn wanted in the new kitchen because she had one in their last house "and loved it," she said.
The family uses the island seating "99 percent of the time," according to Bill. A TV is even stationed above the refrigerator so they can watch it while sitting at the island.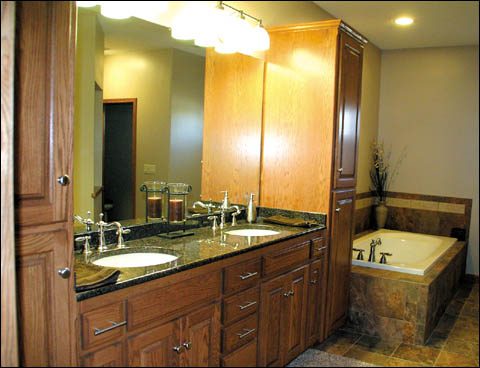 The main floor master bathroom features double sinks, a whirlpool tub, walk-in shower, and walk-in closet. The couples likes having their own storage space.
Behind the kitchen and dining area is a hallway leading to Bill and Lynn's master bedroom/master bath; Abbie's bedroom; Bill's office; the laundry room; a half bath; and the mud room at the entrance from the garage.
The master bathroom features ceramic tile flooring, a granite-topped vanity with double sinks, a whirlpool tub, a walk-in closet, and a walk-in shower.
Having had only one bathroom in their last house, Lynn and Bill love having their own sinks and their own separate storage space in the new bathroom, they agreed.
They also love their ceramic-tiled walk-in shower. Having a walk-in shower is nice because it eliminates the need for a glass door or curtain, both of which can be a pain to clean, according to Lynn.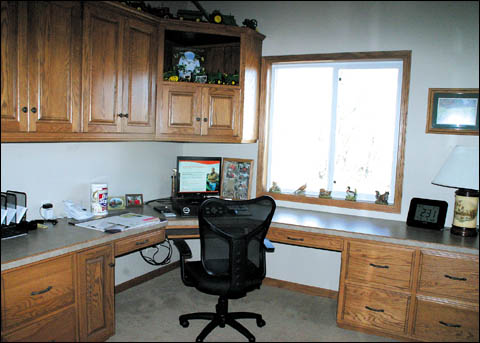 Bill does his farm paperwork in the main floor office.
Next door to the master bedroom/bathroom is Bill's tractor-decorated office, where he does farm paperwork. (The girls have a separate computer area upstairs, so Bill can use the office whenever he needs to.)
Down the hall from Bill's office is the laundry room, featuring a laundry shoot from the upstairs and storage cabinetry with pull-out drawers. Next to the laundry room is a half bath and the mud room (from the garage).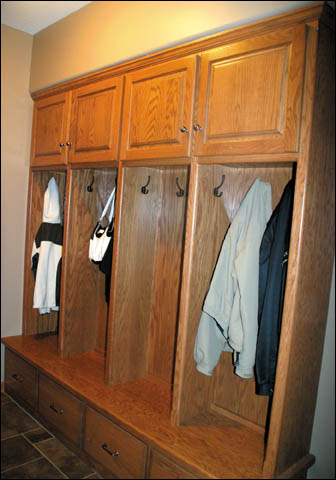 The mud room has four lockers with bottom drawers for shoes.
The mud room has individual lockers to hang coats, bags, etc., with drawers underneath for shoes. With the laundry room and bathroom right there, it's a nice area to clean up and organize your things before coming into the house, said Bill.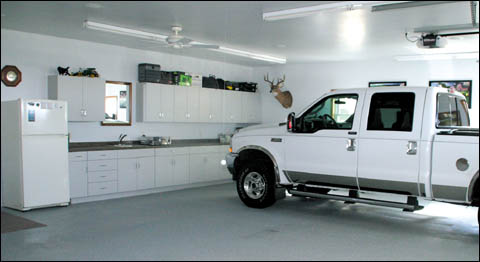 The Wuertzes plan to hold graduation parties and other events in their new 1,000 sq. ft. garage, featuring in-floor heat, cabinetry, a sink, and refrigerator, as well as Bill's prized Ford pickup.
At the Wuertz home, the garage can also be described as Bill's "man room," they laughed. One thousand feet in size, the garage has durable, easy-to-maintain flooring; in-floor heat; a refrigerator; a sink area; storage cabinets; and "manly" decor. The new garage will be a great place to host graduation parties and other events, said Lynn.
Also at the front of the home, near the kitchen, is the living room. Birch pillars are located at its entrance, an idea Lynn got while touring other new homes. The kitchen and living room both feature birch wood, stained in a finish they described as "not too dark, not too light," while the rest of the home (window trim, doors, etc.) is oak.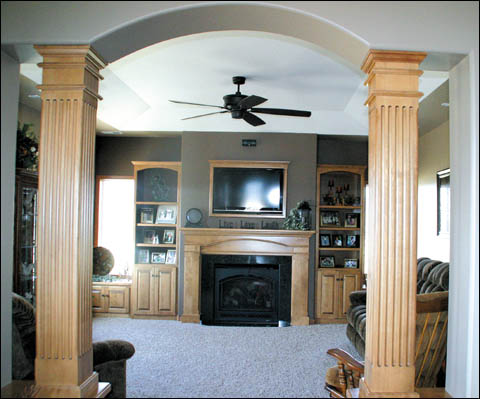 The living room features birch pillars at its entrance and a fireplace.
The Wuertzes love their living room fireplace and used it nearly every day this winter. It's especially nice on cold nights after coming in from working outside, noted Bill.
Just off the living room is an open stairway to the 1,700 sq. ft. upper level. Upstairs they have the girls' bathroom; Megan's and Brooke's rooms; a family room; and a 700 sq. ft. bonus room.
"We put our basement upstairs," said Bill, who prefers a main floor and upper level in two-story homes. The open stairway leads to a large family room with a computer area, table and chairs for playing games, and a TV/entertainment area.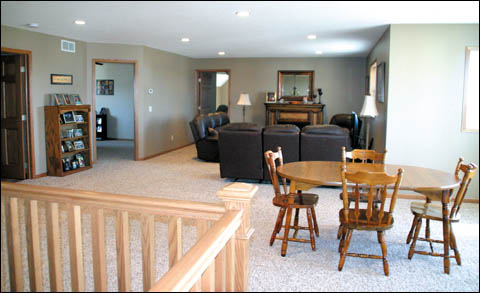 The upstairs of the Wuertz home includes a large family room (shown) and a bonus room above the garage. The Wuerz sisters like spending time in the bonus room and having their own space upstairs.
The girls' bathroom also has a walk-in shower and double sinks with a granite-topped vanity. Bill and Lynn suggested buying granite remnants, as they are less expensive.
All three girls also have walk-in closets with a shelving system in their bedrooms, freeing up space by eliminating the need for dressers.
The bonus room above the garage is a nice hang-out place for the girls; a place they can play their Wii and make noise without distracting anyone else, according to Lynn. "They spend a lot of time up here," she said.
Like the two bedrooms, living room, and office on the main floor, the entire upper level is carpeted, with the exception of the girls' bathroom, which has earth-toned ceramic tiles like the rest of the main floor (kitchen, dining area, hallway, laundry room, mud room, and bathrooms).
Not wanting a dramatic color scheme, Lynn chose neutral brown and tan paint colors and chose them from the same color palette, a tip she learned from a friend.
Since they don't have a basement, an extra-large closet is located near the kitchen and dining area to store off-season stuff, said Lynn. They also have a storage closet in the upstairs bonus room.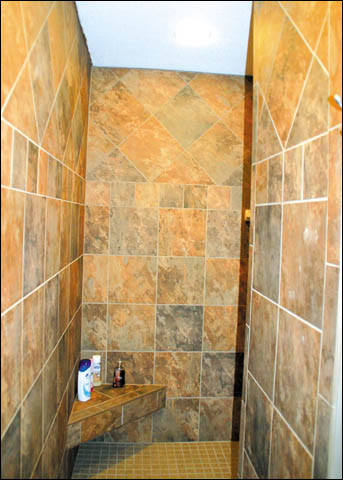 Another feature of the master bath is the walk-in shower eliminating the need for a shower door or curtain.
The Wuertzes used a lot of recessed lighting throughout the house and put ceiling fans in all four bedrooms. Even with central air, ceiling fans are nice to have, and the family uses theirs often, according to Bill and Lynn.
With their new surround sound system, Bill can listen to the Vikings game anywhere in the house, as well as in the garage and on the stamped and colored cement patio, where the family does a lot of grilling. "We use it quite a bit," he said.
In the past, the Wuertzes have had problems with flies in their windows, which is why they chose all double-hung windows with sliding doors and screens on the outside, according to Bill, who highly recommends them.
Bill and Lynn are very pleased with their new home, and there is nothing they would change, according to Lynn. Decisions during planning and construction were easy to make together, she said. "We had good people to work with. Everyone really helped us out," she added.
Lynn plans to do more decorating and organizing in the coming months. The Wuertzes also plan to do landscaping this summer.
Return to Home Improvement
---
---
---