By Ellarry Prentice
Virtually maintenance free is how Darlene Olson described the new exterior of her Paynesville home.

With the help of a rehabilitation grant from the Small Cities Development Program, Olson's home on Stearns Avenue now has a new roof, all new windows, new soffits, and a new foundation. In addition, new insulation has been installed throughout the home by Tri-Cap Services.

Olson was one of the residents who petitioned for the Small Cities Development Program to rehabilitate houses in the city of Paynesville, though she was not one of the first to have housing improvements done.

"I was very appreciative of getting picked to get my house done," said Olson of the program, extended in Paynesville last year due to stimulus funding.

The city of Paynesville originally received an $814,056 grant through the Small Cities Development Program, which was used to rehabilitate 22 houses as well as 22 downtown commercial businesses and 17 rental units, beginning in April 2008.

Last fall, a $207,280 grant from the American Recovery and Reinvestment Act allowed 10 additional homes in Paynesville, including Olson's, to be rehabilitated through the program, which brought the grand total number of houses rehabilitated through the program to 32.

Purchased by Olson and her late husband Jennis in 1996, the one-story home features two bedrooms, one bathroom, and a fenced-in backyard for her small dog April.

After marrying in 1967, the Olsons lived in Kansas, where Darlene worked in the Wichita health and human services department. They also lived near Lake Elizabeth, southwest of Atwater.

The couple moved to Paynesville 36 years ago, living on the south side of Lake Koronis before buying their home in town.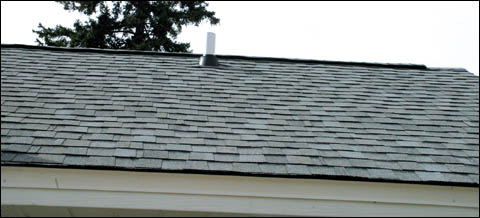 The cobblestone-colored shingles on Olson's new roof match well with her new green siding and cottage white trim. Thanks to the work she had done to the home this winter, its exterior is virtually maintenance free.
"We wanted to stay here," she said of choosing Paynesville over moving back to Kansas, her home state. "Paynesville is my home," she said. Jennis, who died in 2008, was born and raised in rural Hawick and moved to Wichita in the 1940s, where he started his own businesses.
Olson likes the convenience of living in town and being close to the Koronis Manor and R.O.S.E. Center, where she volunteers. "The location, perfect. Good neighborhood," she said.
Knowing the exterior of her home needed work, Olson decided that would be the focus of her housing improvements through the Small Cities Development Program. The exterior work began in early December and was completed before winter's end.
With the old windows in need of replacement, she chose to have all new ones installed. She likes being able to clean most of the new windows from the inside and doesn't dread the chore as much these days, she said.
For the new siding, she chose the color green to replace the previous white slate siding, wanting to spruce up the place with a splash of color and wanting something different than the ever-so-common tan of many new siding jobs, she explained.
Olson is very satisfied with her home's new cobblestone-colored shingles, which match nicely with the new green siding and cottage white trim, she said. In planning the exterior work, she enjoyed being able to choose the colors of the siding and shingles that best fit her taste.
Olson said the insulation has helped reduce the home's heating costs and that the new siding and new windows alone made it feel warmer inside. "It will make a difference in both the heating and cooling costs," she added.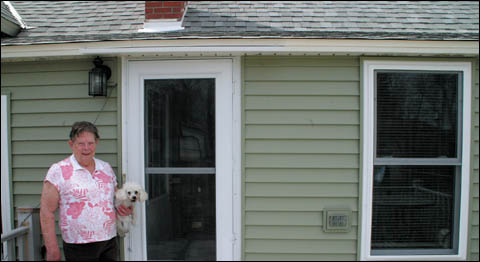 Olson, who shares her Paynesville home with dog April, loves the color of her new siding. She chose the color green because she wanted something different than tan or white, common colors of new siding jobs. Olson is pictures at the back entrance on her deck overlooking the fenced-in yard. She also had a new screen door and motion light installed plus new insulation throughout her home.
The back entrance to the house also features a new screen door and motion light. Olson is considering putting a screen door on the front entrance also.
Though she chose to do mostly exterior work, Olson did have two windows removed and replaced with drywall in her front entry and replaced the ceiling in her back entry that had been leaking.
Olson is glad she had the two windows in the front entry removed and replaced with drywall because they were a big nuisance and let cold air into the kitchen, she said.
Having a home that requires little outside maintenance is nice for a person her age, said Olson, who is still very active but was happy to see professionals climbing ladders and doing the labor this time.
Olson expressed appreciation to her construction crew, stating that they did a fabulous job and were very respectful to her and to her property.
In the coming months, she has plans to paint her dining room and kitchen, to have new flooring installed in both rooms, and to paint her laundry room/office/pantry area. She is still deciding on paint colors for the two rooms, as she wants something that will look nice with Parquet flooring (which will replace carpet) and wainscoting in the dining room.
Return to Home Improvement
---
---
---