By Michael Jacobson
For Darrol and Diane Mason, it all starts in the kitchen. The couple's love of good food, cooking, and fine dining meant the kitchen and dining room were the centerpieces of their new home.

Their design started with their new kitchen, which was crucial to the Masons since they both enjoy cooking and wanted plenty of space to work together. They found a floorplan that they liked on the Internet and then tweaked it with the help of their lumber yard and their builder.

Key to the design was the size and location of the kitchen and the inclusion of a formal dining room, which the Masons really valued. "Those two rooms sort of force fed how we did the rest of the house," said Darrol.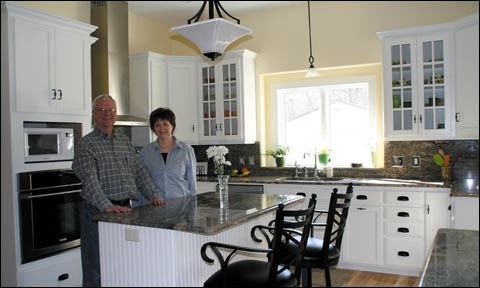 Darrol and Diane Mason built a new retirement house in Paynesville, south of Lake Koronis, in 2009. Since the couple loves to cook, the kitchen was a central feature in their floor plan.
The couple - who have owned a cabin on Lake Koronis since 1977 and also have a house in Golden Valley, where they still work - wanted an island, lots of counter space, and great views from the kitchen, which overlooks the slough on their wooded property south of the lake. They also have a TV, so they can watch the Food Network while cooking.
"When they were building it, I was concerned that it was too small," said Diane of the all-important kitchen.
The kitchen has black granite countertops (like the rest of the house), stainless steel appliances, white woodwork to give an old-fashioned look, including bead board on the island, and a rustic maple floor. For extra storage and work space, they have a full pantry, with more counter space, lots of storage of spices, food, and appliances, and a wood cutting block. "I had a pantry in the farm where I grew up," said Diane, a 1965 PHS grad, who knew she wanted one in a new house.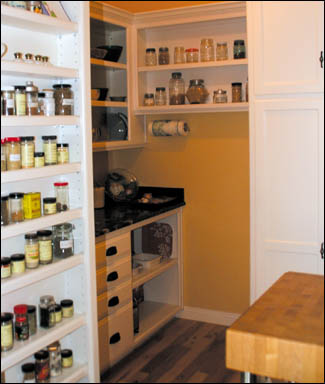 The kitchen has a full pantry with storages for spices, food and appliances, plus a wooden cutting block and counter space for additional work space.
On one side of the kitchen is Diane's office, which is convenient for dropping mail when coming home, storing cookbooks, printing recipes, and using the computer while between tasks in the kitchen.
On the other side is the entry way from the garage - with a mud room, half bathroom, and laundry room - and a hallway leading to the formal dining room. Since the Masons loved to set a formal dining room table for a nice meal, whether they are entertaining or whether it's just the two of them, this area was also crucial to the design.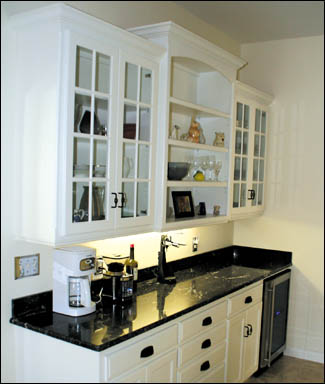 Connecting the kitchen to the dining room is this butler's pantry, which offers another black granite countertop for serving food or clearing the table, work space, and storage for stemware and dishes.
The butler's pantry - a long countertop and china closet - lines the short hall from the kitchen to the dining room. "We'd seen this often, always liked it, and knew we wanted it," said Diane. "It's just a great place to store dishes, and placemats, and stemware."
The butler's pantry, which can also be used as a buffet, makes the dining room very convenient to use, they said. "It's a gradual transition to the dining room," added Darrol.
They purposefully kept the dining room small, wanting it to be an intimate environment, to be cozy. Their 1950s rambler in Golden Valley only has a joint living room/dining room, and they wanted a distinct room for dining in their new home.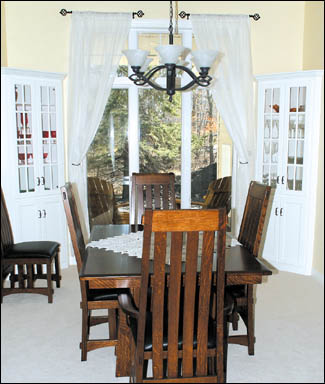 The Masons wanted a formal dining room that would be cozy. Whether entertaining or cooking for themselves, the couple enjoys making a good meal, setting the table, and dining in style.
While formal dining rooms are not as common these days, it was a high priority for them. Theirs has a large window overlooking the woods, built-in china closets in corners, and an alcove for an antique dresser.
"We love to cook," Darrol explained. "We love to eat. We love the formality of a fancy dinner." Their dining room, added Diane, "is awesome."
Their living room, linked to the dining room by a set of French doors, was not nearly as important to the Masons. They were fine with this being a smaller space, as long as it had a wood fireplace so they can cozy up to the fire. "We wouldn't do a lot of entertaining here," said Darrol. "We'd do it in the kitchen or dining room."
Contrary to popular style these days, the Masons wanted separate rooms and not a wide open floorplan in their new home. "Lots of homes, from the front door, you can see the whole first floor - kitchen, dining room, and living room," said Diane. "That's what we want to get away from."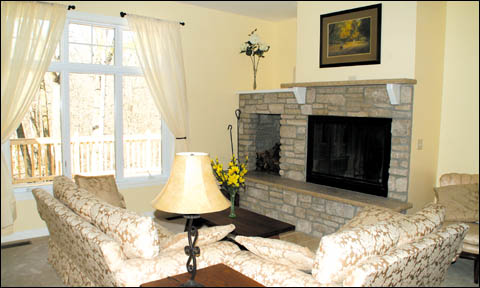 The main requirement for the living room was a real fireplace, so the Masons can cozy up to the fire. They wanted distinct rooms in their new house, not the open floorplan more common these days.
The dining room and living room share sculptured carpet to give a formal, old-fashioned look and textured walls, which they had done in their Golden Valley home and loved. The living room also has large windows looking out to the woods.
The Masons, who met at the University of Minnesota and have been married since 1974, purchased her aunt's Lake Koronis cabin in 1977 and have enjoyed weekend trips to Paynesville ever since. They built their new home with the intention to retire here in a few years, though they need to keep working for now. "I've always loved it here," said Darrol, originally from Cloquet, who sells equipment to power companies and actually could work from home. "I've loved Paynesville since I started coming out here."
Diane, on the other hand, who does purchasing and inventory for an office, works close to their Golden Valley house.
They bought the three-acre property by chance late in 2006. "We were just driving around the lake, giving my mom and sister their yearly tour," said Diane of finding the property south of the lake. They saw a "for sale" sign on CSAH 20 and looked at the wooded property, which was overgrown, though it had used to be a farmstead (part of the Jebb farm) and an old block house, abandoned for years, still had remnants left
. "It was kind of love at first site," added Diane of the property. They loved the woods. "It was just real peaceful," said Darrol. "Just the seclusion, yet it was close to the lake and to town."
"We'd been looking to buy something for years, whether it was an investment or to fix it up," said Diane.
The Masons gave a lot they owned in town to Habitat for Humanity, which is planning to build a new house on this Carroll Court site in 2010, and began designing their retirement home.
One of the things they loved about the property was a small slough, which they had dug out to hold more water in order to attract more wildlife. "It's fantastic," said Darrol. "Wood ducks are back there. Deer."
In 2008, they built a 32' by 42' shed on the property, which is great for storage and will house a winter greenhouse, and in 2009 they built the house. The design and building went well, they said, since they have similar tastes, knew what they wanted, and had gone to the Parade of Homes for years. "We had a lot of opinions, so it was just a matter of putting it all together," said Diane.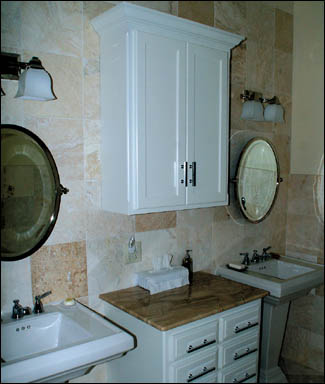 The master bathroom on the main floor has his-and-hers sinks.
They actually tried to shrink the size of their house - which ended with 2,790 sq. ft. - but found that they couldn't without compromising. "We tried to downsize this house. For the cost, then we weren't getting what we wanted," said Darrol. "It's cheaper to do it right the first time, we always think," added Diane.
They also took ideas from her aunt's 1920s Tudor-style home in Paynesville, she said.
Building, besides a few weather delays, went well. "It went fast. It went quicker than I thought it would be. Then it slowed down," said Diane of the relatively quick work in building the basic house structure and then the more time-consuming work of finishing the interior.
Their house was ready to occupy in mid-December, and they got to spend Christmas in their new home in 2009. The snowy woods, a fire in fireplace, and a fine meal made for a wonderful holiday.
Wanting to escape the gridlock of the Twin Cities when they retire, they love that Paynesville is still rural yet close enough to drive to the metro area when necessary. "We both love to garden and landscape. Because of the cabin, we both just love the countryside," said Diane.
"The beauty is when we sell our house in Golden Valley, our commute to the cabin goes from 75 miles to five miles," added Darrol.
The main floor also includes a hearth room, leading to the back deck, the two-stall garage (with a set of stairs to the basement that the Masons think is very handy), and has 10-foot ceilings. They have his-and-her master bedroom suites, hers on the main level and his in the basement, both with walk-in closets and adjoining bathrooms. Hers actually has his-and-her sinks and could ultimately become a joint master bedroom should Darrol ever no longer be able to use the stairs. It also features tile to the ceiling, a feature they saw on the Parade of Homes and liked.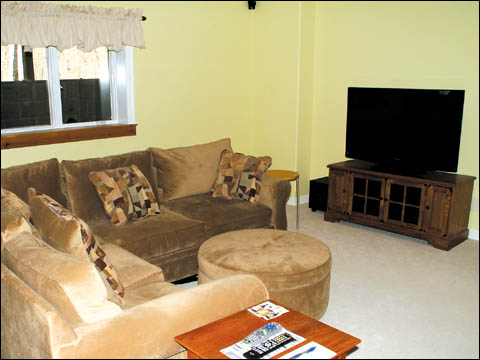 The basement features a TV sitting area plus an office for Darrol and a bedroom suite.
The basement includes a TV sitting area, built-in bar, wine cellar (that can hold 300 bottles), Darrol's office, his bedroom, and a cold storage under front steps. They expanded the basement to go under the kitchen and office, since otherwise those rooms might have been cold in the winter, another suggestion from their contractors.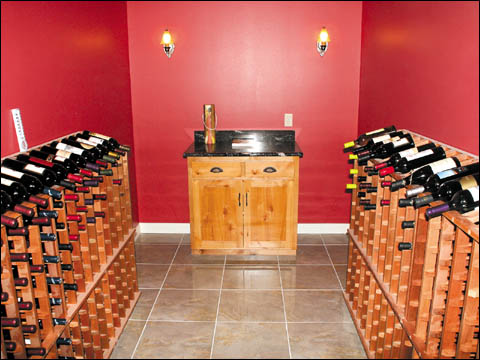 The basement includes a wine cellar which can hold 300 bottles of wine.
Other small features that they love in their new house are the radius corners, which their builder does standard and they like because they are softer and not easily damaged; closets in his office, which are great for storage; and stereo wired throughout the house. They also opted for geothermal heat.
Upstairs, with a long staircase leading up from the front door, they have Diane's sewing room, two guest bedrooms and a jack-and-jill bathroom between them. This allows privacy for them and for their guests, they said.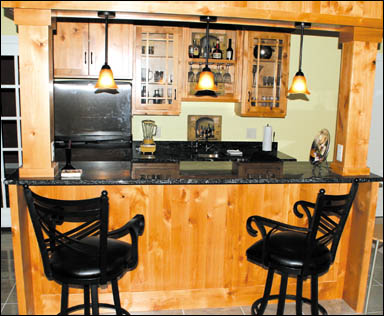 A built-in bar is part of the finished basement.
Still to do are gardening and landscaping, and a bunch of small finishing touches. When these are done, they look forward to having time to spend on their deck, looking out into their woods.
Return to Home Improvement
---
---
---