A Minute with Mike - Michael Jacobson
Usually, this time of year, I'm ceaselessly pestering local folks to be featured in our Home Improvement section. Well, this year, it's my turn.

The format of this story is a bit difference, since I am writing about myself and the much-needed improvements done to my apartment above the Press office this year.

My remodeling project grew out of the Small Cities Grant Program, since we did several updates at the Press, including: new front windows, new front awning, new backdoor, and remodeling two offices into a larger central work space. In conjunction with that work, I also replaced some windows in my apartment upstairs, which led to refinishing the walls, redoing the most of the floors, repainting most of the apartment, etc., etc.

Anyone who has built a new home or done home remodeling can attest that these projects seem to gather speed and have a life of their own. You start working and pretty soon all you see are things that could be improved, if only your checkbook had a little larger balance.

Since I'm a history nut, you're going to get some apartment history from me, so bear with me. The Press moved to its 211 Washburne site late in 1933 (formerly being located where ColorMax is now situated). My grandfather's father, mother, and brother all died in quick succession in the 1930s, forcing my grandfather to purchase the rest of the Press from his brother's widow. To do so, he had to sell the family's cabin on Lake Koronis. By 1949, however, he was able to purchase another lot on the lake and build a new summer cabin.

Even though this cabin is one of the closest from the lake to town, it was a long ways out in the country in 1949, and my grandmother would not consent to live there year-round. (She did not fancy being stuck by the lake, without the car, which my grandfather would have to drive to work, throughout the long winter.) So, that same year, they sold their house on River Street and built an apartment above the Press.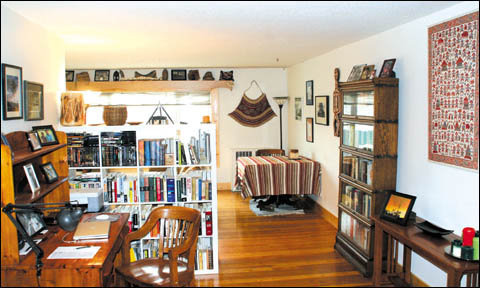 The large front room is L-shaped including the living room shown above. The other part of the room is my office area (shown here and formerly my grandmother's dining room) with a dining area at the end of the living room. My dad and I sanded the original fir floor and varnished it. New windows were installed, in conjunction with the Small Cities Grant Program work done at the Press below.
It's a three-bedroom apartment with roughly 2,000 sq. ft., and it's where my mother grew up. It still has the marks indicating my mom's and my uncle's heights as kids on the molding by the bathroom, and the door to my uncle's old room still has his 1960s graffiti - "Dig, Dig, Dig," "All Perry Mason Fans Allowed," etc.
After my grandmother's death in 1987, my parents rented the apartment for a decade, until I moved there in 1999, after returning to Paynesville and resuming work at the Press.
I did some minor improvements back then, such as removing the pink wallpaper from the bathroom and painting it deep purple to try to make the pink sink and bathtub more manly. (My six-year-old niece still thinks Uncle Mike is pretty cool to have pink bathroom fixtures.)
But, while the apartment met my living needs perfectly, I was too lazy to do too many other improvement projects.
I really like downtown living. I know there are several other business owners - and other folks - who live in downtown apartments, and these are the only people in town who can challenge my claim to fame of having the shortest commute around. Mine rivals even someone who works at home, since I just have to come down one long stairway to get to the Press. I have to shovel snow for the Press, but not really any more at home. There's no grass to mow (though I regularly mow the yard at the lake). With the busy schedule of an editor (school events, meetings, weekend appointments, etc.), it's actually nice to be able to get my camera from my office in less than a minute.
I get a lot of questions about living next to the movie theater, and, yes, I can hear the sound if I lean close to the adjoining wall. Despite living in a downtown building with no setbacks, my nearest neighbor is a half block away. That means when I get home from a long city council meeting or a sporting event and want to unwind, I can play music as loud as I want or jam on my guitar at 12 midnight if I like.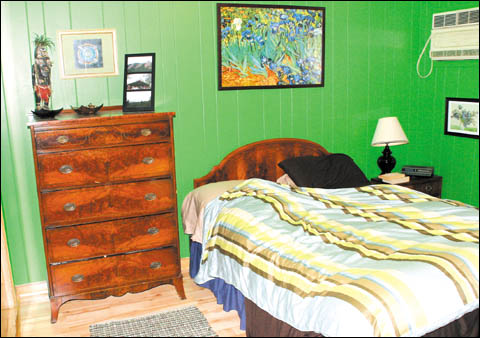 Tired of dark plywood walls, I chose bright point colors for my apartment, including lime green in my bedroom. My father and I installed laminate wood floors in three rooms, including this maple floor.
So, with my love of history, one of the things I wanted to keep in my apartment is that retro feel from the 1950s. But it needed to be repainted and to have new flooring.
I should acknowledge the help of my father Peter right here, because without his labor I wouldn't have even attempted to do so much myself. Some of the most productive work days in my apartment were ones that I spent at work and Dad was toiling by himself upstairs. Thanks again, Dad!
Last winter, the work started by refinishing the floor in the front room, which overlooks Washburne Avenue. Previously carpeted, my dad and I sanded the fir floor, and then he varnished it. The large L-shaped room used to be the living room and dining room, but I use as a living room and office. We actually had to do the work in two parts: sanding and varnishing half, then moving all the furniture when we were done and doing the other half.
Last summer, after the windows were installed by the contractor who did the work at the Press, I started with the walls, which were dark paneling from the 1970s. My dad, as a young husband, had remodeled these rooms for my grandparents back then, and still had the energy to help me update it. (He says this might be his last apartment remodeling, but you never know.) I sanded the walls, primed, and painted them bright colors: lime green in my bedroom, cloud blue in the back den, orange and yellow in the hall.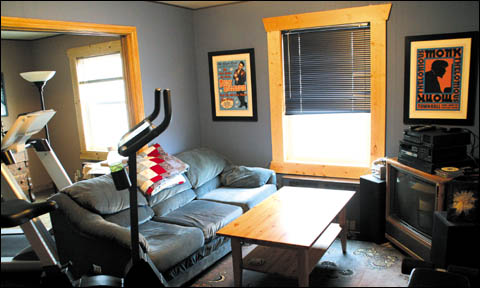 The pocket doors dividing two bedrooms was opened up and turned into a joint den/exercise room.

We also uncovered the pocket doors between the two back bedrooms. When my mom and uncle were young kids, they could open these doors in order to have a larger play space. When they were teens, however, the doors were covered. With them open now, these two rooms can be used together as a den/exercise area.

With dad's help, we also put laminate wood floors in all three bedrooms, replacing more old carpet.

Finally, in the kitchen, I wanted to pick a different color scheme than my grandmother's yellow. The kitchen features old metal tiles halfway up the walls and as a backsplash, so we picked a greenish cream that still matched these tiles and repainted the kitchen cream, olive green, and burgundy. I also had a burgundy tile floor installed, as well as new laminate in the back hall.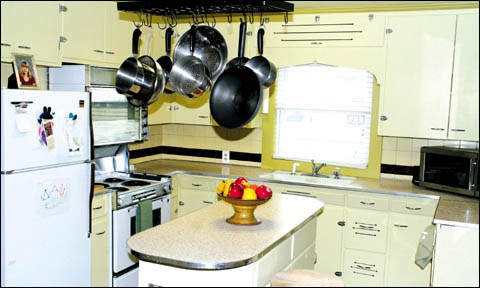 The kitchen was repainted cream and olive green and had a new burgundy tile floor installed to match the retro tile (shown in the backsplash).
To save time, I sanded and painted over the layers of old wallpaper in the kitchen and back hall (even the ceilings had multiple layers of wallpaper). While not perfect, I think I'd still be trying to get all the old wallpaper off the walls (or installing new sheetrock by now).
The new floors were installed last fall, with the kitchen and hall floor culminating the project just before Christmas. My family helped me hang several pictures, including more Papua New Guinea artwork, over New Year's weekend.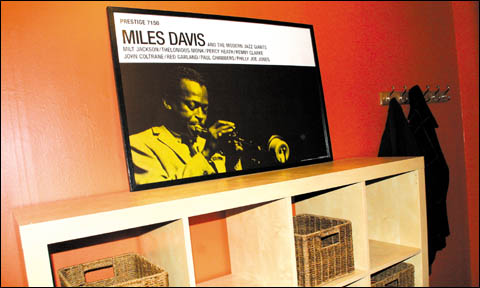 The back hall had many layers of wallpaper on the walls and ceiling, which were sanded over rather than trying to remove all the layers. The back hall, like several other rooms, was painted bright colors - here orange and yellow.
Of course, there are still things that could be done. Does home improvement ever end? I'd like to paint and recarpet the front entry, and I still need to clean and organize my closests. (Anyone who's seen my desk can imagine this desperate need.)
But I am pleased with the overall project, glad to be rid of the dusty outdated carpets, and thrilled with the bright new look of my home.
Return to Home Improvement
---
---
---