Dolls were made of clay, wood, ivory, bone and more
By Connie Williams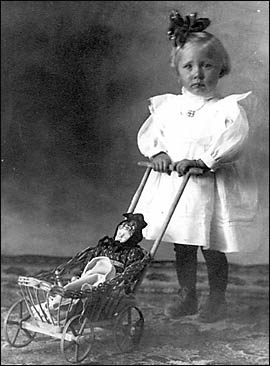 The thought of a small girl holding her dolly brings a warm feeling to any heart. Dolls are small representatives of human figures. They have been used as symbols in religious worship, as burial objects or children's toys for as long as human culture has existed.
Doll artifacts have been found in ancient burial sites. They are made of such materials as clay, wood, ivory, leather, or bone.
Industrial production of dolls began in the 1800s when porcelain and later unglazed china called bisque were developed in France and Germany. Doll bodies were made of cloth or leather and the china parts attached.
Other materials used to make dolls are rags, papier-mache, rubber, leather, gutta-percha, celluloid, and bakery dough.
Some unique dolls are made from palm leaves, shocks of corn, and bamboo. Other unique dolls such as the Amish dolls many times do not have a face.
New vinyls can be molded into uncannily lifelike dolls. Some can drink, cry, wet, walk, and even speak.
In the 1960s, the Barbie doll was the craze. In the 1980s, Cabbage Patch Kids were popular because each had a different face and came with different clothing and its own name and birth certificate.
From our files Mrs. Lynn Luthard says that she and her sister received a new doll each Christmas. Their mother also made doll quilts and crocheted bedspreads.
May Abbott had a doll named "Dorothy." Her doll had black hair. Kate Abbott had a doll with blonde hair. Carolyn Groves, the first grandchild was given Kate Abbott's blonde headed doll on her 12th birthday. She was carrying it one day in a basket and the doll fell onto the floor and its head broke. The body was laid away until Aunt May willed her black haired doll head to her.
We have this doll in the bedroom of the Paynesville Historical Museum. It has a porcelain head with very black porcelain hair and blue eyes. It has a cloth body and wears homemade clothes.
We also have Harland Heairet's great-aunt Mary Tibbits' doll. Mary Tibbits was born in 1883. Darlene Heairet, who donated the doll to the museum, says she doesn't know the exact age of the doll. It is a baby doll with a cloth body.
We have a very old beautiful doll from the 1880s with a cloth body and leather hands and feet donated by Helen Knable. She's wearing a blue skirt and button down top with a brown cape over her shoulders. She has a straw hat.
We also have an original Buddy Lee doll. The little doll is wearing Lee Jeans, representing the Lee Jeans Company.
We have many other old dolls as well. If you have any dolls you would like to donate to the museum, contact Bertha Zniewski, 320-243-4433.
If anyone would like some National Geographic magazines, the museum has about eight grocery size boxes of them. They are free for the taking.
We are looking for pictures of pigs and butchering. We are also looking for a workable vacuum cleaner to use in the museum.