By Sara Ringstad
What do you do when the summer months are gone and the sunlight dwindles down to make way for cooler days? In today's search for continual warmth and light, we have many options, including planning a vacation to a warmer part of the nation or world or stocking up on tanning minutes.
Whatever the method, the resource of sunlight as well as its effects are a hot commodity. Some desire the warmth and light for medical reasons and others for cosmetic.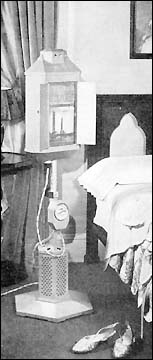 The desire for sunshine is nothing new, though. In the 1920s, people began using a "sunshine" lamp to catch some warmth and light. These lamps, otherwise known as carbon arc lamps, were somewhat of an early form of tanning.
Sunshine lamps were made in the 1920s to provide light and heat in the home during the winter.
The sunshine lamp had a place in many homes as well as doctor offices or hospitals. The lamps used carbon to produce an emission of both infrared (heat) and ultraviolet (light) rays.
The rays were emitted in their natural proportions to make the lamp's effects just like those from the sun. Because of this, the sunshine lamp could be used freely in the home. One would have to be careful about prolonged exposure to the lamp rays, though, because of the risk of burning.
The use of the sunshine lamp was said to be a benefit for growing children and those who wish to avoid physical depression. On the other hand, it was not to be used by anyone who was actually ill.
One could purchase a lamp from most medical companies as well as some electric companies, and prescriptions were given for the carbons used in the lamp.
The development from sunshine lamps to modern tanning beds shows the progress in the field of artificial sunlight distribution, as well as the common uses of the light from the 1920s to today. Stop in the Paynesville Area Historical Museum for a tour and catch a glimpse of this early form of artificial sunlight.
The Paynesville Area Historical Society would like to thank all who toured the museum this summer, as well as those who donated their time to help make the museum a better place. There have been some great improvements this summer, and we look forward to future reorganization and continued progress.
The museum closes on Thursday, Aug. 31. We hope to see you next year!