By Sara Ringstad
There was once a woman by the name of Tracy Marsh, whose fascination with antiques has contributed to an attraction at the Paynesville Area Historical Museum. Her exhibit is on permanent display and a treasured part of history.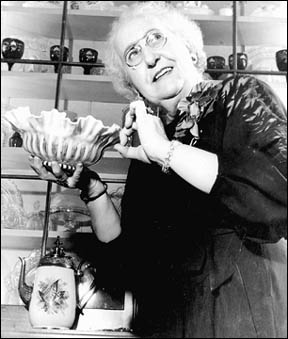 Marsh was no ordinary collector of antiques. Here is her thought on collectors from 1968: "Beginning in a modest way, with limited means and limited knowledge, many collectors of antiques gradually become infatuated and develop an insatiable interest in one or more categories of the subject. Eventually, complete satisfaction is found only in the best available examples. A high level of technical craftsmanship adds to the attractiveness and value to the discriminating collector."
During her lifetime, Tracy Marsh gathered a collection of antiques that she documented and displayed at her home, "Marsdale Farm." Her collection is now on display at the Paynesville Area Historical Museum.
She indeed was an example of such a collector. The antiques she collected all had a story and she knew the background to each. She has created a unique short story of a tour including all the antiques she donated that describes their history in a fun and informative way.
She took her fascination with antique glass to a new level by publishing her book, "The American Story Recorded in Glass." Her other works include an autobiography titled, "Through the Looking Glass with Tracy H. Marsh"; a booklet describing her home collection titled, "Marsdale Farm: Won't You Come In?"; and various other short stories and writings regarding her collections.
She lived on a farm, called "Marsdale," south of Lake Koronis with her husband. She invited individuals to tour most of her home with the exception of one room that was her husband's "get away" room. She described all of her antiques at the farm in her booklet titled, "Marsdale Farm." This booklet contains the history of the antiques in the form of poems, short stories, and an acronym.
Her philosophy comes from the poet Ralph Waldo Emerson and reads: "Our tokens of love are for the most part barbarous, cold, and lifeless because they do not represent our life. The only gift is a portion of thyself. Therefore, let the farmer give his corn; the miner give a gem; the sailer, coral and shells; the painter, his picture; and the poet, his poems."
In taking that philosophy to heart, I suppose one could say that for Tracy Marsh a token of love lies in the form of treasured pieces of history.
By definition, a museum is an institution for the exhibition and preservation of works of art and objects of natural history, science, antiquity, or of popular interest for the edification or amusement of the public. If you go by that definition, one could say that Tracy Marsh had practically made a museum by the display of artifacts in her home.
The Paynesville Area Historical Museum is very pleased to have an exhibit that portrays the life of such a collector and someone who appreciated the history connected to the artifacts.
Please stop by the museum for a tour and catch a glimpse of Tracy Marsh's wonderful collection. After all, the museum is nothing without visitors to come and appreciate the artifacts of Paynesville's past.