By Jennifer Gully
Many small towns surround the Paynesville area. They vary in size and all have their own histories.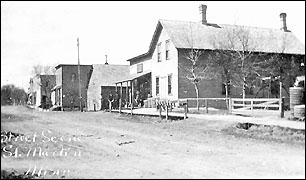 At the Paynesville Area Historical Museum, we have an interest in all of the small towns that make up the Paynesville community.
A street scene from St. Martin in the early 1900s is shown in this image, taken from a 1909 postcard. St. Martin was originally called Leyıs Settlement in 1857 and was renamed St. Martin in 1891.
Just west of Paynesville is the town, Hawick. Hawick became a town because of the railroad in 1891. The town got its name from a railroad official who said, "Around the kirk, past the graveyard, and into Hawick."
Regal, another town near Paynesville, was not always known as Regal. First, Regal was called Linton after a Soo Line railroad contractor. Later the town's name changed to Lintonville.
However, the post office objected to having another town end in "ville." So, in 1915, the town name changed to Regal, being named after the car.
The first person to make a claim to Lake Henry was Xavier Popping in 1855. Originally, Lake Henry was known as Lake David.
Unfortunately, there are no records at the museum of why the town's name changed.
Spring Hill received its name by the large streams in town. In 1857, the first settler Jesse Getchell arrived in Spring Hill.
St. Martin was first called Ley's Settlement after the first settler Henry Ley, who arrived in 1857. In 1891, St. Martin was renamed. It is named after the bishop of tours.
Torah was the original name of the town of Richmond. The name Torah was after an Indian chief, but on March 4, 1909, citizens changed the town's name to Richmond.
Roscoe formed in 1887 because of the Great Northern railroad. The town was first called Zion, since that was the name of the town's post office.
At the museum, we have information about local towns. However, our information is limited, so if you have any additional information please contact the museum.
(Information from the 1915 Stearns County History Book.)