By Sara Ringstad
The art of applique and patchwork comes to us from ancient Egypt and the early Chinese.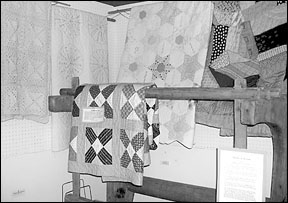 Americans recognized quilting with its relationship to early Colonial days. In the Colonial days, quilting would be considered a luxury or something associated with nobility. Quilts were not always considered a luxury relating to nobility though; they also were a necessity to pioneers in America.
The Paynesville Area Historical Museum is seeking information about its quilt collection (shown above) and about its other artifacts this summer. Call 320-243-7547 to share information with the summer staff.
Quilts have made their journey from luxury to necessity to today's symbol of fine art. To this day, quilting is a treasured activity of many people. It is a fine art shared by many church groups, organizations, friends, and individuals alike. Quilting has no doubt been a great way for people to spend time together and create memories that last.
The Paynesville Area Historical Museum holds a variety of quilts from Paynesville's pioneer families. We have a wonderful display of crazy and friendship quilts.
Quilts have had a very meaningful history as well as a valued place in many homes. Each quilt has a history and a story to tell.
Come in and check out the quilts displayed in the Paynesville Area Historical Museum and experience a treasure of Paynesville's past.
If you have any information regarding the history of quilting in Paynesville, please stop by the museum and share. We appreciate all the information we can receive about our artifacts.