Notes from the Paynesville Historical Society. . .
Paynesville had community band
By Darlene Peterson
Since I started working here at the historical museum, I've learned a lot of things about Paynesville's history that I never knew before. For example, I was surprised to learn that Paynesville used to have a community band, from about the late 1800s through the early 1900s.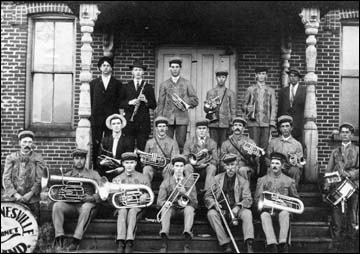 Actually, many of the small towns had their own bands in those days. Marching bands first started in the mid-1800s with the band movement and parades. Many churches also had their own bands.
The first community band was formed in Paynesville in the late 1800s. Pictured is the Paynesville Cornet Band.
These bands consisted mainly of brass instruments and had few if any woodwinds and thus lacked the softening tones of a modern band.
Although not much information is known about Paynesville's community band, this was John Philip Sousa's era, and they probably played many of his marches. The band would perform outdoors at places such as the Lake Koronis Hotel, which was located on the north shore of the lake.
From about 1900 to 1920 the band's director was a man by the name of Bill Albright. A talented musician, he was blind but in addition to conducting other bands in the area he would also walk, sometimes many miles, to people's homes to give the children music lessons. He died tragically from injuries resulting from falling into an open manhole.
The museum has many band and music-related items on display, including uniforms, a wooden flute, an open-hole piccolo, and a bass drum with a band logo on it.